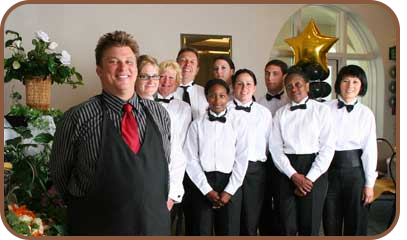 Affordable Affairs GOURMET* Catering is owned and operated by longtime restaurateur and chef David Tepper, of the award-winning Tep's Villa Roma family restaurants and catering services, located in New Jersey, South Lake Tahoe, and San Diego.
David began his career in the restaurant and food industry when his father opened the first Tep's restaurant in Linden, New Jersey in 1963, followed by the 1975 South Lake Tahoe location. In 1981, David and his parents opened another Tep's Villa Roma in San Diego near Mission Bay. David owned and managed this location which quickly became one of the most popular Italian and seafood restaurants in the county for over 20 years.
David realized his true passion lay in the catering business and started Affordable Affairs Gourmet Catering in 2001.
Affordable Affairs Catering has grown to be one of San Diego's most popular catering companies. In addition to weddings, rehearsal dinners and other social events, we are a great choice for graduations, memorials, corporate meetings and seminars, as well as government and educational functions. We love working with the military and have provided catering services for many retirements and change of command ceremonies.
As our motto states…
"MAKE IT GREAT, GIVE'EM PLENTY AND DON'T CHARGE A LOT"
*GOURMET IS NOT A PRICE
Gourmet is a standard of quality in the purchasing of food and products related solely to the food service industry.
Gourmet is a passion for the highest possible care and concern in the preparation and presentation of these quality food products.